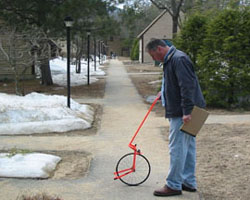 We Provide:
Capital Needs Assessments
We have completed over 500 Capital Needs Assessments throughout the New England Region and we pride ourselves on the personal relationships we form with the Owners and their Management Agents. Our Capital Needs Assessment Reports are easy-to-read, easy-to-understand and provide you the guidance needed for long term capital planning.
We specialize in serving the affordable housing industry, but also serve condominium associations, churches and commercial properties.
Section 504 Evaluations with Transition Plan
Let us help you understand the accessibility deficiencies at your properties and allow us a chance to show you how easy it can be to transition into compliance.
Energy Audits
Be proactive and "Audit" the energy usage and realistic energy needs at your properties. Let us help you understand the latest technology and the potential payback from energy saving improvements.
Construction Management
Are you finding that your properties require a major capital improvement? Are you realizing that you may not have the expertise within your staff to provide proper oversight and construction coordination? If you answered yes to these questions, let us help you! We specialize in assisting Owners and Management Agents with:
Preparation of a specific "Scope of Work" with "Specifications"
Preparation of RFP's and evaluation of Proposals or Bids received
Permitting
Actual Construction Coordination or Construction Management
Specific Construction Inspections